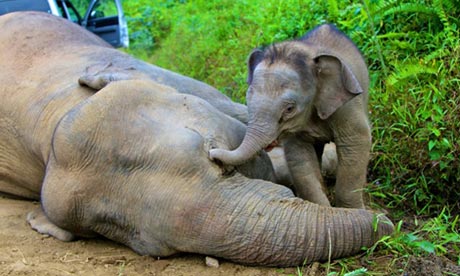 J
oe, the baby elephant
KOTA KINABALU: The orphaned baby elephant rescued from a herd of 13 that were found dead in Tawau appears well and healthy at the Lok Kawi Wildlife park here.
It was renamed "Joe" as its earlier name "Kejora" was considered feminine by the team from the Sabah Wildlife department Rescue Unit who are tasked to look after the male Bornean Pygmy elephant round the clock for at least two more weeks.
Since Joe was found next to its dead mother on Jan 25, it was looked after by members of the unit who thereafter brought it from the scene near the Gunung Rara Forest Reserve about 130km from Tawau and transported to the park where it could be better monitored.
Datuk Seri Panglima Haji Musa bin Haji Aman
Meanwhile Chief Minister Datuk Seri Musa Aman ordered the State Wildlife Department and Forestry Department to thoroughly investigate the death of the elephant.

"This is unacceptable. The culprits must be brought to justice," he said adding that the State Government viewed this matter seriously as Bornean Pygmy elephants were an endangered species.

He said that these elephants were part of Sabah's rich and exotic wildlife and should therefore be protected.

"People come from all over the world just to catch a glimpse of these animals. It is unfortunate that there are people who would resort to such a horrific act, " he said.